The Two Tone effect
What you'll need:
Bosny Flat White (Primer), Bosny 351 Gold, RJL 08+1580 Yamaha Red, sturdy hands and a LOT of patience. (You can use substitute similar type paints that are available in your area, but make sure that the Red you are going to use is semitransparent, meaning, if you spray it over black, you will still see black).
Do this,
http://www.youtube.c...h?v=2pm-yLBdpWE
http://www.youtube.c...h?v=HJBXRhYj5nM
To achieve this,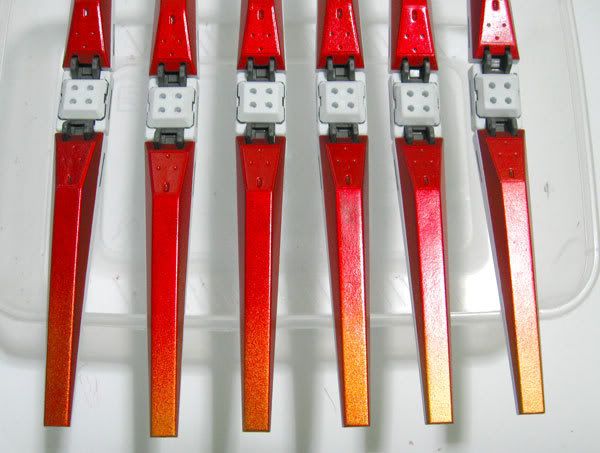 When done correctly, the color will look predominantly red, but gold at certain angles, mainly because the paints are sprayed from opposing angles or at least 90 degrees from each other based on the surface you're spraying on.
The Multitone Effect
This is similar to the Two-Tone effect, but instead of flat white, I used flat black as the primer instead. The flat black gives a more earthy and deeper gold brilliance as compared to white.
What you'll need:
Bosny Flat Black (Primer), Bosny 351 Gold, Bosny 67 Honda Red (used as a substitute for RJL 08+1580 Yamaha Red), sturdy hands and a LOT of patience.
Use flat black as primer, then gold at a certain angle/direction (the gold, which is opaque, acts as a buffer for the red which is semi transparent), then red (which should be candy red/yamaha/honda red since metallic red is opaque) at an angle/direction opposite the gold, then another gold layer opposite the red, and so on. So, if you see a predominantly red patch, that's the angle I sprayed from. If I sprayed gold from the right/bottom, I spray red from the left/top.
To create the darker patch, I sprayed short bursts of flat black over the red, and maybe a few more short bursts of red to make it deeper, depending if I feel like it. The texture and depth of the multitone depends on how moist or dry the previous coat was when the new layer is laid.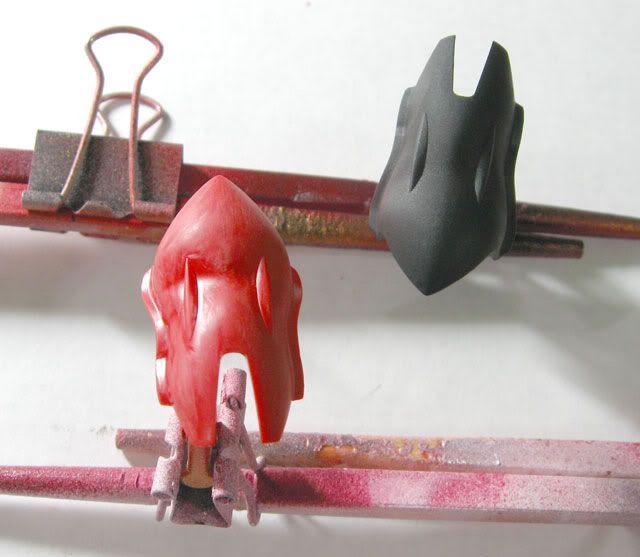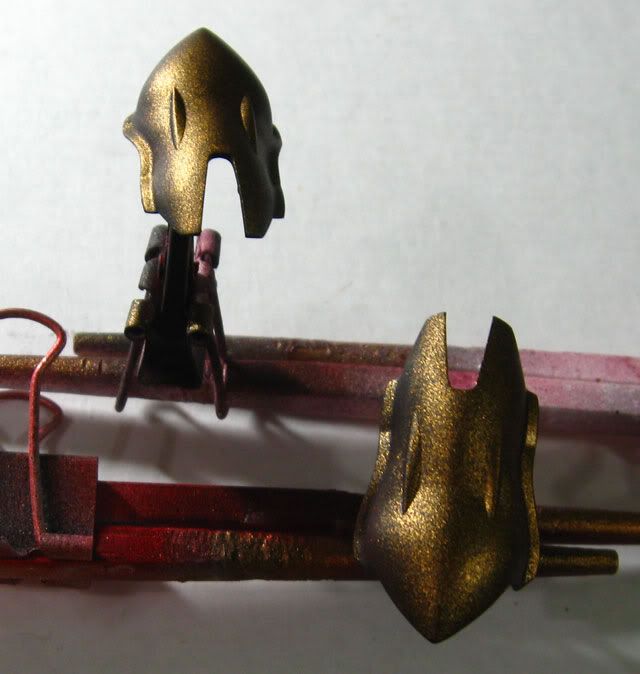 This works well with contrasting hi-gloss metallic/candy paints. Candy red paints are semi-transparent with thin coats. When applied minutes from each other, applying the next layer just as the previous one is about to dry allows for the paint to blend into each other. Be careful though, when done incorrectly, it can produce unwanted texture, especially when done during transitioning weather, though for me, I use the texture to my advantage when it's just enough.