The JinX's Double Bolo.
"Dreams and Fantasies seem to have more meaning when they come into life..."
The JinX's custom weapon actually came to me in a dream. It's roughly based on the shape of a Jungle Bolo, a favorite tool of most local a farmer here in the Philippines, and equally lethal a weapon that makes Rambo's army knife look like a butter knife (Rambo eventually had one eventually, if I remember it correctly). Even before I started working on the JinX, this weapon has been playing my imagination like a melody would when I'm writing songs.
With some of my modification or scratch build projects, I usually sketch first to get a feel more of how to go about building, and some do look good on paper, but fail miserably when the first few pieces of plaplates are cut.
The initial sketches of the Double Bolo.
Once I started cutting there was no turning back. Midways, I thought of ditching the idea altogether since I was torn between a one-piece weapon that is simple to build but would lack interchangeablility and shoulder-mount option, or a multi-piece version to which I could build different blades for. I opted for the latter, just to give myself the headache and because I seem to have the penchant of making things complicated (as DC23 noticed). I refined the sketch, and built two central module where variable blades and hilts can be interchanged. The modules also has a swivel peg for shoulder mounting purposes (the reason why I modified the shoulders to begin with.
I built two identical Bolos with interchangeable parts. The blade mount itself is removable, so I can actually build longer blade variants.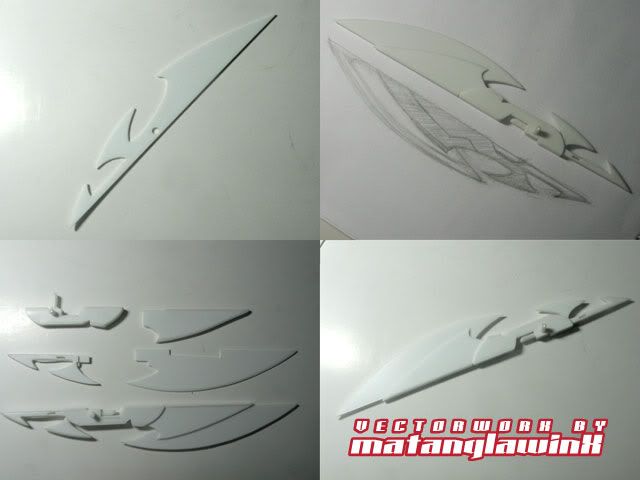 The Piece-de-Resistance (or I would like to think so). I built another hilt that allows me to interconnect the two modules ambidextrously.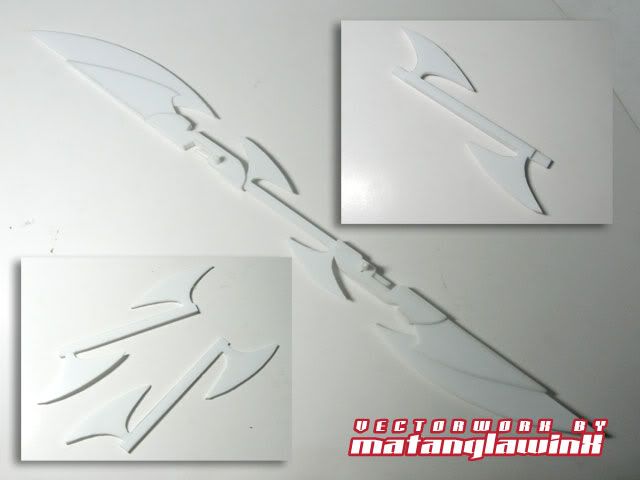 The only beams I used for this build are 3mm round beams for the swivel peg and the hinge. Even the handles are built by sandwiching precut plaplates. The blunt edge is 3mm thick, the sharp edge, 2mm thick, making it easier to file into a sharp edge.
UP NEXT: More (minor) Armor detailing and enhancements...