PG 00 + 0 Raiser Review
First off, The 0-Raiser's mechanized "tail"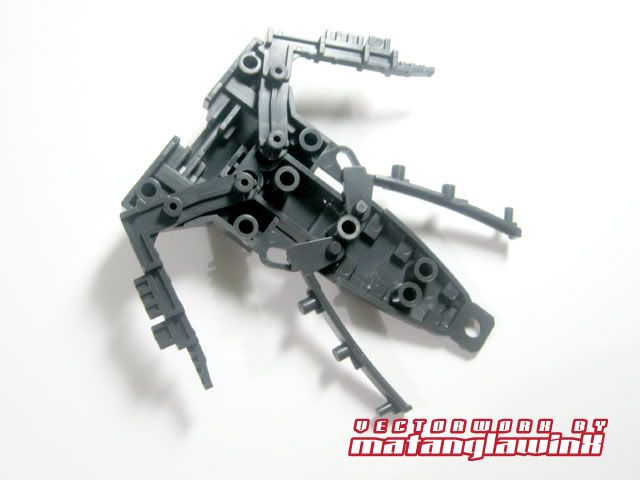 The GN Sword III,
with the "beam" saber...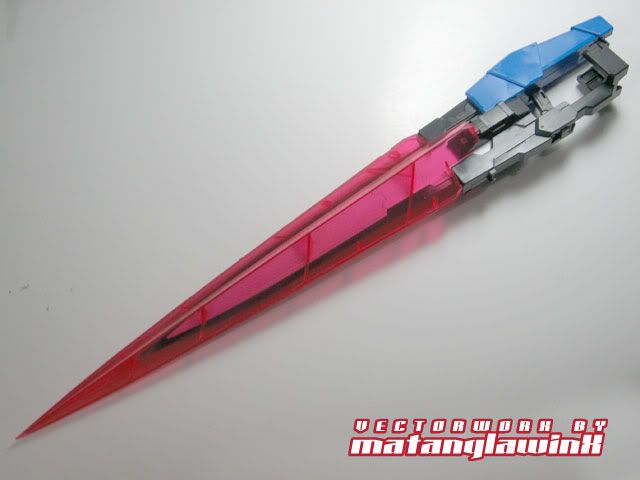 With its little brother...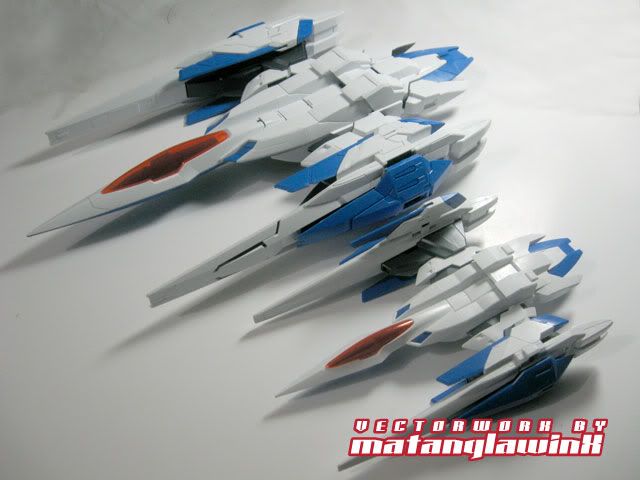 Assembling the 0 Raiser was the easy part. I was expecting to be able to assemble just the frame, but the main fuselage/armor is integral to the overall assembly.
Also, as I have mentioned, the armor parts do lock into place and is difficult to remove afterward on certain sections, but can be remedied by shaving some material off the pegs and parallel "bars."
The chest assembly, which indeed looks like the MG Exia's, and the head's internal frame. I wish the Astray's head is built like this as well. The head's slot obscures the light coming from the LED, making the sensor crystal only partially lit. Though it is indeed ingenious to light the entire head using optics, the result is sort of a muted effect. It also distorts the color when the light passes through the red sensor.
This is something worth modifying, eh?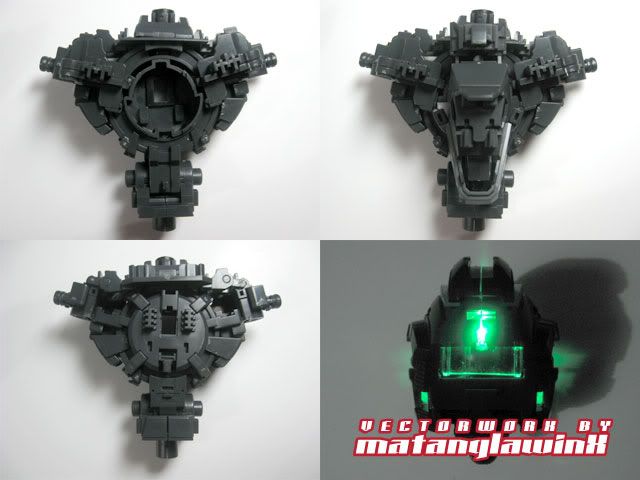 With the Ronin. The two are about the same height considering the 00 still doesn't have its feet armor on. The crotch seems to light up because of the Aurora film.
Bandai skimped on this one with the ABS parts. Unlike the Astray which has an all-ABS inner frame, most the 00's frame is a mix of inner ABS and outer PS parts.
The main reason why the armor parts "lock" on the frame, especially with paint. The parallel bars fit snugly and interlock each other.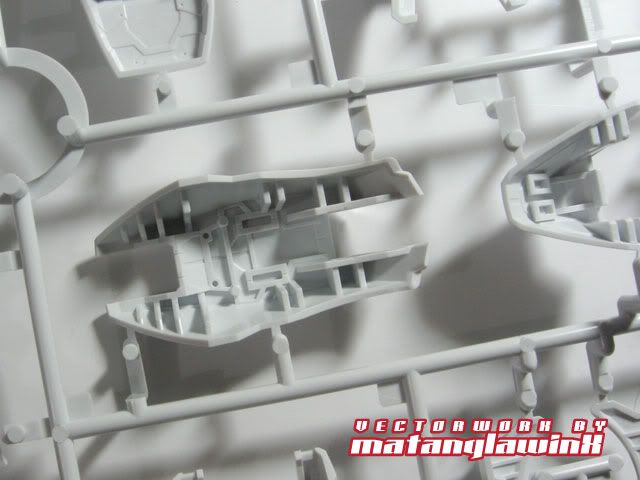 The extra Weapons. 'Nuff said.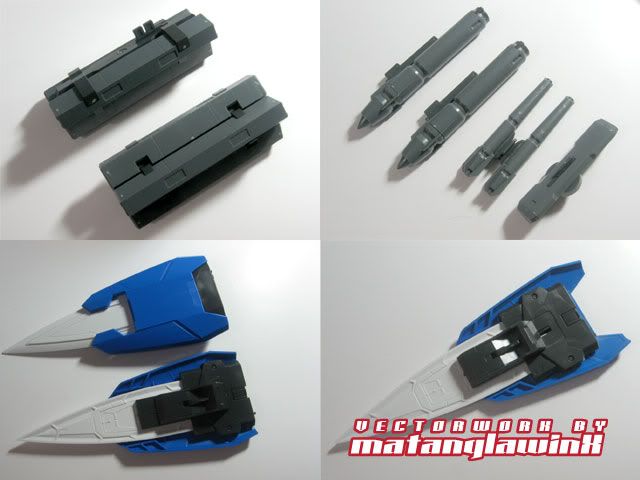 Nitpickin' observations.
Like most products (Astray, for example), this one ain't "perfect." Some of the parts do come off easily with minimal force, like the chest and back parts (sans the back pack).
This assembly in particular ALWAYS comes loose each time I adjust the armpit/shoulder angle. So I decided to cement it permanent,
The GN drive mounts "bends" with the added weight of the 0-Raiser. A little reinforcement should do the trick.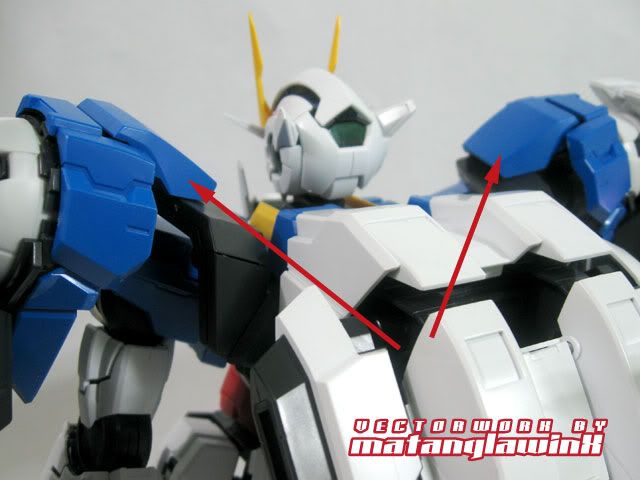 In an attempt to increase the brightness within the head, a sticker. It doesn't really do much.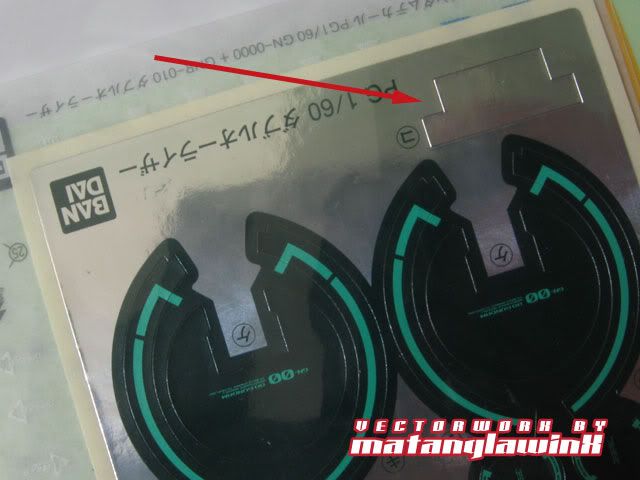 As was mentioned previously, the use of optics to bend/refract the light is ingenious, but limits the brightness of the light.
The stand is sturdy, but, the mount for the 0-Raiser is a bit flimsy and comes off rather easily. I had to brace it on the rear stand to make it more stable, but it was still wobbly. Can be modified for strength though. Personally, Bandai could have made this "special" freebie extra special by molding the CB logo instead.