Sticky Stuff...
I've upgraded this former part of my
Concept Mecha X-Walker
build into a full-blown tip/tutorial.
I discovered a very nice and CHEAPER alternative to Extra Thin Cement, courtesy of new friends from
IPMS Manila
. I've been wanting to try this stuff for months, but, I still had a couple of bottles of extra thin, so I delayed getting it until I ran out, which was during the Concept Mecha build.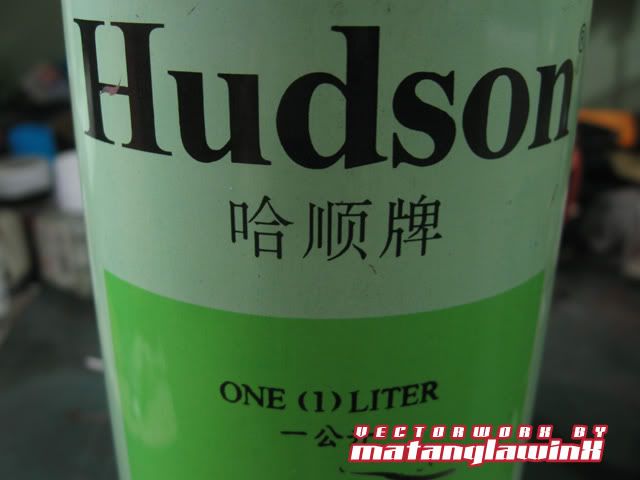 It's called Hudson Polyurethane Reducer. As it is, Tamiya Cement, or any branded plastic cement for that matter, contains "synthetic resin" and "Organic Styrene Solvent." Tamiya cement smells much like clear nail polish or acetone, and some people do use nail polish as an alternative to cement. The PU reducer smells much like acetone and has a stronger scent than cement, so I suppose acetone is the "Organic Styrene Solvent" component of cement. I've tried it on this build and I'm satisfied with the results so far. At 133~140 Pesos a liter, I've got around 20~25 40mL bottles of extra thin cement for the price of one. It also comes in a 1 Gallon can, and the liter can I bought was the last one on stock.
The thing is, with this, I've got an alternative for extra thin, but, I also use regular cement heavily for most of my scratch-builds so I thought of making myself a batch. (which, I noted, I have to buy a glass beaker and graduated cylinder to avoid spillage).
Using a leftover amount from a batch I poured (which yielded a total of 3 extra thin bottles and two hybrid/mixed bottles, one of which is PVC cement and the other Tamiya Regular), I soaked a few pieces of scrapped styrene build parts from the Angelus. The picture above is about a few minutes into soaking, and as you can see, the PUR has started doing it work. In as little as 30 minutes, the solution has turned milky white, and more than half of the styrene has melted.
The picture below (l-r) shows the pure batch, the hybrid (half regular/half PUR), and the batch I made. Testing the stuff proved successful. I believe that because of the melted styrene, the bond it created between my test slabs is quite stronger than with regular cement. I tried prying the sandwich from each other with my knife unsuccessfully, whereas using the same amount of force, it was easy with regular cement.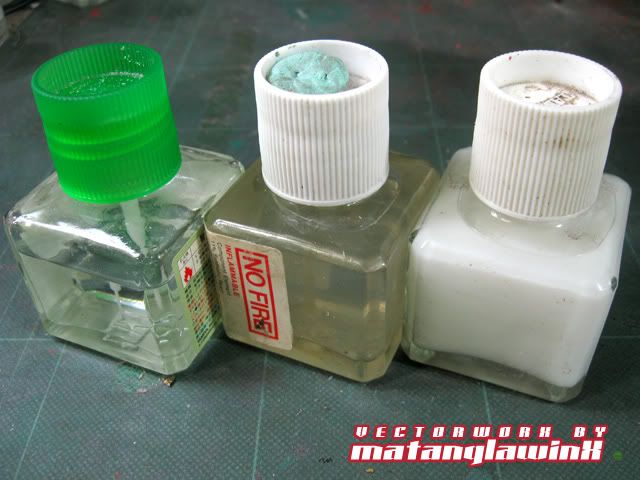 Testing the "

MatX Cement

" Formula

. I've been using my own cement concoction for the Concept Mecha build, and so far the results have been most favorable, if not better than Tamiya Regular and Extra Thin Cement. Since I do a lot of modifications that involve marrying ABS/ABS and ABS/PS and have successfully achieved it with just a combination of Tamiya cement variants, I wanted to see if the stuff I mixed will work on cement-hardy ABS plastic.

I've tried the solution to both ABS label slabs and runners from my Red Astray stash, and was quite amazed with the results.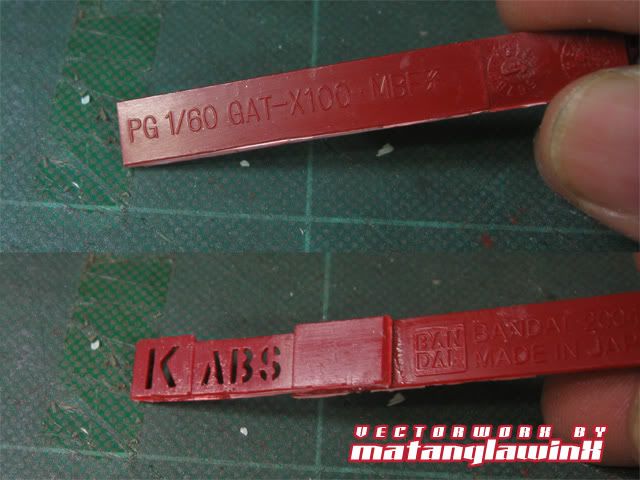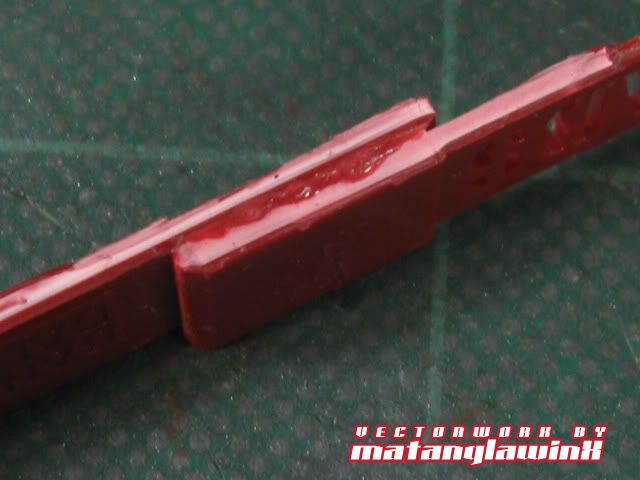 That's OOZE coming out from between the ABS slabs. I believe the PUR alone can melt ABS, but the melted styrene also helps with the overall bond. Although I've experience color staining when combining red ABS with white styrene using Tamiya cement, I haven't seen ABS ooze out like this when I apply pressure.
Here's something I've tested just a few days ago. With enough curing time, the bond holds well (notice that I'm forcing the sprues), even without my usual "plug" reinforcements.