Leg up!
Modifications are tricky. Sometimes, I get to modify a lot of parts in a couple of days or so, sometimes, It takes several to modify just one part, especially when I have to get back to it to make repairs and additional modifications. This rarely happens when marrying PS to PS plastic, but often when marrying PS and ABS. In my experience so far, not all ABS plastics are created equal when it comes to combining them with polystyrene in modifications. The toughness of ABS when it comes to cutting and bonding it with cement varies with the color it comes in. The gold ABS frame of the MG Strike Freedom is rather soft, whereas the grey ABS frames of both the Sinanju and the Unicorn are indeed tough, but, since there are no polycaps for the joints, are susceptible to humidity and temperature change, that, when left posed for a long time, tend to stick. The upside of that is that they are also easy to bond to PS with cement, though, I have learned it's always best to reinforce joins. Next on the list is the PG RFA's red ABS frame. Though it melts upon contact with cement, and oozes when it undergoes pressure during bonding, it also tends to grow brittle over time.
The toughest so far (and you can test this yourself) is the black (or dark)-colored ABS frames (PG 00, MG Wing EW series, The O). Though similar to the red ABS in toughness, this one barely melts on contact with cement, unless I really rub the surfaces together. When the bonded surface dries, the ABS quickly lets go when stress is applied. Since I have the habit of modifying high-stress parts like joints, this is a major issue that I have to contend with, especially since for such a huge kit, the MG The O manages to have too small a part to modify easily.
So, after the nth test fit and it giving way (slightly, if I may add. The beam modification actually holds, but the external HIPS/ABS join is stubborn), I decided on applying the reinforcement mod I have been trying to avoid.
I shaved off about 0.5mm from the surface of the ABS/HIPS on the modified leg section (red area) and leveled it with a file. Using the 0.5mm WHIPS (White High Impact PolyStyrene) I recently acquired, I cemented a piece to merge the problematic joins together. I then encapsulated the edge with the same, saturating the joins with extra thin cement and applied pressure, especially on the radial part.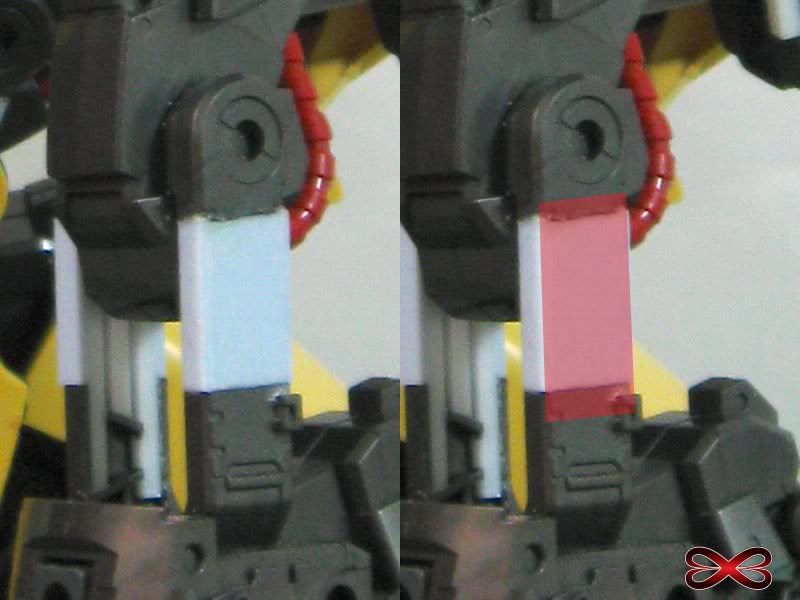 In this case, I waited for 12 hours before re-beveling the edges with a file and smoothing it with a 600-grit sandpaper. The one on the left is untouched, the one on the right has already been re-beveled.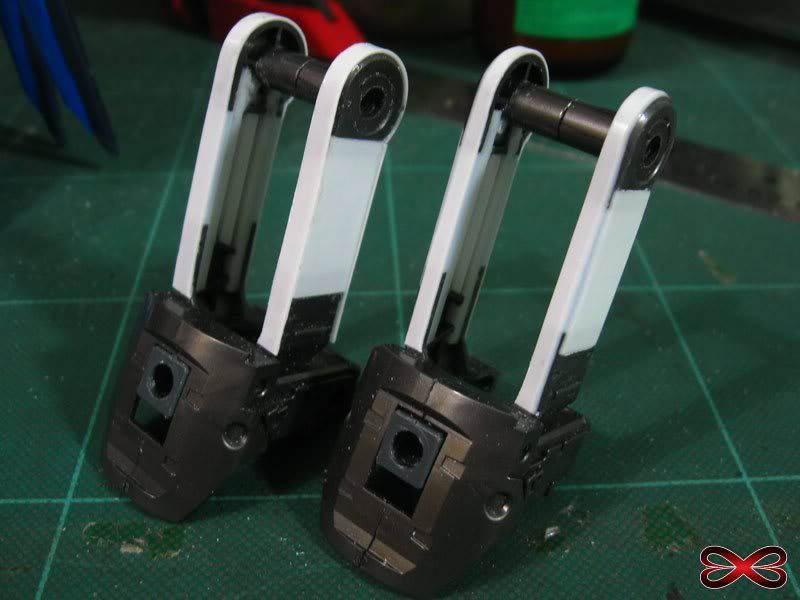 Spared Parts. I have a LOT of spare parts, from various kits and stuff. Some, I've used to build the
X-Walker
, some, still waiting to be part of something else. In some cases when I do modifications, I do cut certain sections that have promising use, so I keep them whenever I can. Care to venture a guess which kit/s I got these from, and what will become of the parts on the second picture?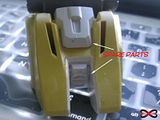 Footloose! The O is a HUGE kit. As such, it's not really strange that it has big feet. Nevertheless, that logic didn't stop me from stripping the side sections off because I think they look silly anyways (whatever practical use it may have). This one took the better part of 4-5 days to complete, from cutting, filing, attaching the new surface (using the 1.0mm WHIPS) and waiting for it to cure for 24 hours, then finally cutting away the excess and filing it again for good measure to make it seamless. I also cut the midsection for that "Kampfer" look.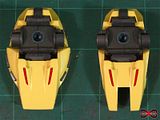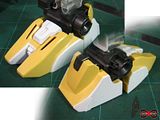 With the lower shine/ankle extension looking too thin compares to the overall kit, adding volume to it is essential. I cut several 8mm clear tubes (with a pipe cutter), and made a pair of this nifty little bugger.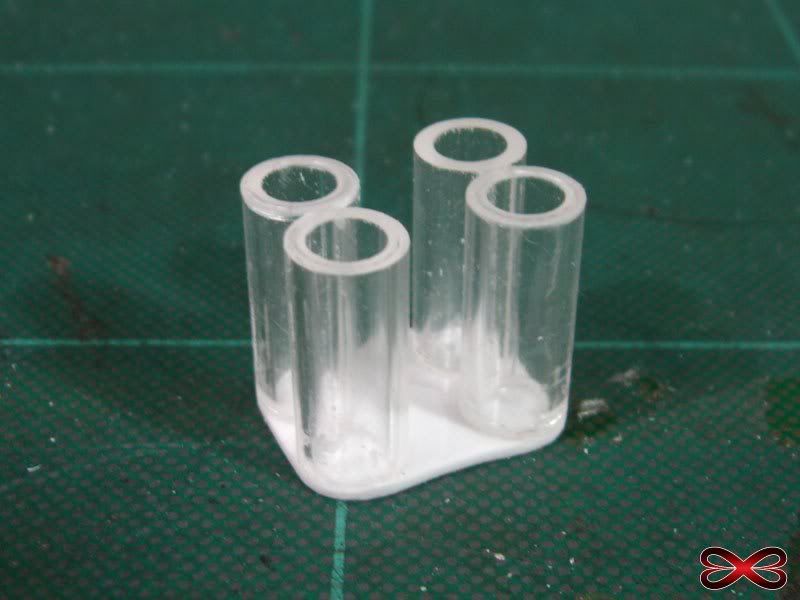 This slips into the remodified ankle to simply add volume and detail.