The Poetry of Symmetry
Since I've decided not to enter this to
HLJ's Sci-Fi competition
(though I might enter another kit if the itch doesn't go away), I'm no longer pressured to do a pair of everything that needs it. The parts I am making are for both the left and right leg, so I can basically skip making another set for the other side. Regardless, I take note of every part I make that has symmetry involved, just in case I have enough time left to make a complete set.
One way for me to keep a running total of parts is to make a basic template, and use that to make duplicates by double-taping the template to a piece of HIPS, cutting it, taping that, cutting it, and so on, until I have enough. These will be the sides of the thigh armor.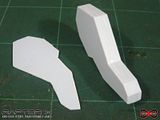 Cut Clean. Build Clean.
I'm exclusively using 1.0mm HIPS now since it's softer and easier to work with than the 2.0mm, for the armor at least. My shaped plates/slabs are 2.0mm thick, so I had to make eight 1.0mm to make four 2.0mm slabs, so on, so forth. I made sure I applied enough cement from edge to edge for an even bond, using extra thin along the seam lines to close gaps, and clamping them for at least 30 minutes. This is essential, especially with parts that will have holes later on. Any gap without cement will distort the plastic when holes are drilled and/or enlarged. When this happens I simply apply more extra thin cement and re-clamp the area concerned, but nothing beats doing it right the first time.
I saved a pair of shaped plates just in case, already prepped for the internal frame of the second leg (which is also basically done, sans a few details). I made a 2.0mm slit halfway through the wider section of the slab, and used that slit to make an alignment guide on the "cheek" of the thigh frame.
I then cemented a 2.0mm beam on the cheek along the alignment guide, and this will serve as the "rail" for the thigh armor to slide on.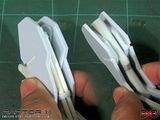 I initially planned this to be a one-part solid slide on armor which locks the intermediary joints, but being that that would be cast, I decided to make it a three-part slide interlock. The two side armors will have slide rails;
Which will be interlocked by the front armor via the slide rails. The armor will slide from the midsection up, and I made sure the parts fit snugly together when interlocked. I did something similar before with the K'triya backpack modifications (a tale to be told later).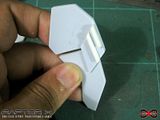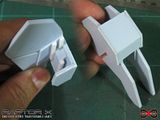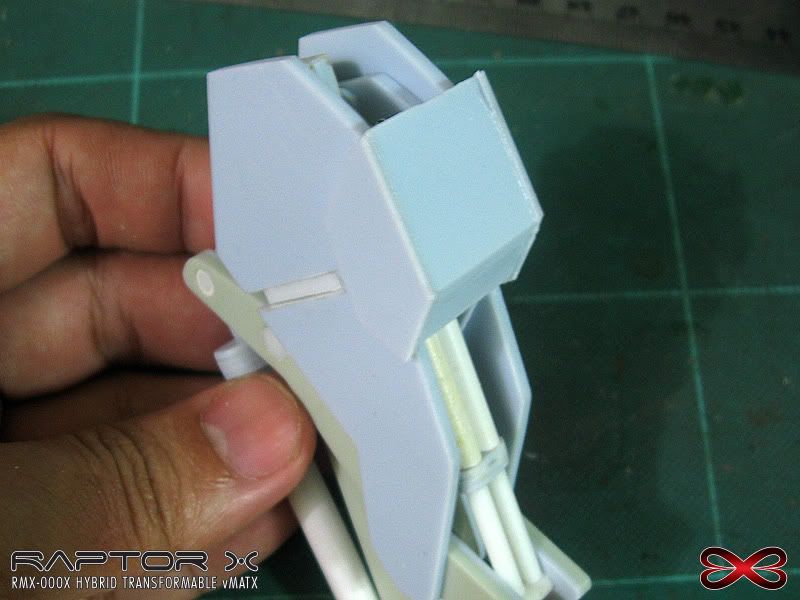 The interlock armor, after a few improvements, like adding bulk (using the same template), beveling and (ugh) koto minus molds. I'm not too fond of koto parts, but I've used these nifty little buggers quite a few times when necessary. I'll be adding armor detail later on.
Like I mentioned before, this will have exposed frame parts, so I guess the interlock is a good option for the armor. Regardless, I might do a simpler, solid version, depending on how Alex would want to tackle this later on. The back of the thigh kinda reminds me of the Turn A and Turn X.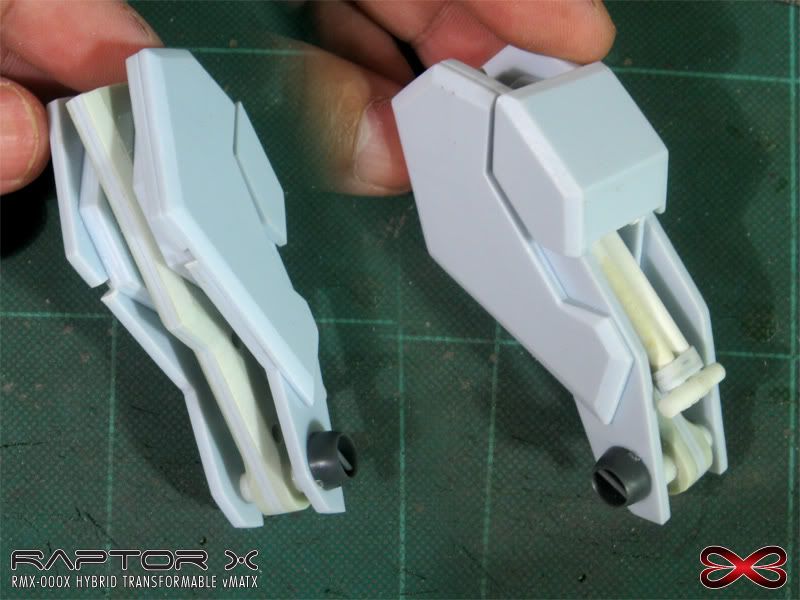 Size comparison with the PG 00's thigh.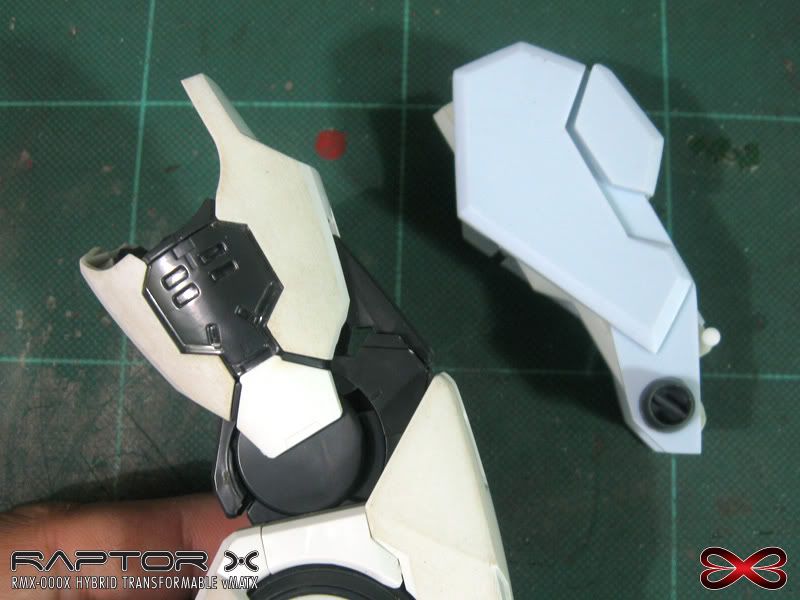 Here's a vid of the modular leg assembly.
Next, the shin armor.