More Head Madness
I'm beginning to realize the difficulty of avoiding putty with this endeavor. The difficulty lies mostly on how to add volume and extend the back of the head of the Turn A following the 1/144 Turn X as a reference. Unlike simple plaplate detailing, this one, like the thigh and calf mods, require a little bit of forward thinking and is actually testing my patience.
But I must press on. Using more plaplate trimmings, i used the base of the Turn A's head armor/helmet as a guide to cut on the plaplate so that it at least follows the shape of the base. I then trimmed it later on and added more plaplates to the back of the head, using the head itself as a guide as well.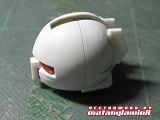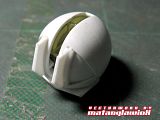 which is adding the cover for the extended head. I've managed to trim the Mohawk's connection, and will use that as the base for the Turn X's mohawk as well.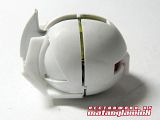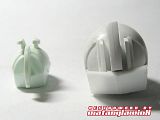 Despite having to wait a few hours for the cement to cure for me to safely work on the modifications, I do feel I'm actually start to work relatively faster, considering my last update was only a couple of days ago, and my initial post regarding this project was only a couple of days before that.
It took me at least three weeks to do the leg and foot modifications, but I was still experimenting on what to do, so, compared to how I worked on the Chimera before, I'd say I'm working faster.
Taking photographs usually delays me from making updates, but I guess I'm getting the hang of it, taking photos right after a modification.
I've just finished watching "
Moonlight Butterfly
" where the Turn A and Turn X had their duel to the death. The Turn X had a relatively short appearance in the film, Less than 10 minutes, and it was at the latter part approaching the end. The main reason for this, as I have read, is because the Turn X was too complex for animation, and since it was still done with conventional cel animation, the animators limited its appearance. It even appeared initially as just the head, with another MS strangely hitching a ride on it. Also, the Turn X's cockpit is encased within the head. I would have to forego that option to simplify the conversion.
That's it for now.