Flashback!
UPDATE: While checking my stats, I chanced upon a web search for my blog title, and within it, my original WIP at ZeroG for the infinity. I believe I am encountering the same problems now as I did back then, so I might refer to the modifications I did with that one. I believe that that WIP also made me shy away from using putty because of how messy it can be, but, I might try using Selley's, which is what DonC has been using and highly recommend.
Check it out
HERE
.
----
I was rummaging in my surplus parts stash when I found the Vfin I designed for my very fist attempt at full modification I codenamed
Infinity
about a couple of years ago. I abandoned the project, which was a bastardized 00, which I bought as soon as I saw it at STC Makati. That kit later on became part of my 00Q kitbash along with my first Exia (which was also the first kit I bought when I restarted my collection 3 years ago). That kitbash project, coincidentally, got abandoned as well because I sensed the arrival of both the 1/144 and MG 00Q months apart.
I'm starting to see a pattern with my abandoned projects, which I would keep to myself. But I digress.
What prompted this Gundam-related post within my Gunpla-hiatus (I have one every year after every major build so it seems) is the Vfin design for the Infinity project. I dug my old sketch of the Infinity posted deep within my Photobucket account, only because I realized something when I saw the actual Vfin amongst the multitude of parts. This was that sketch.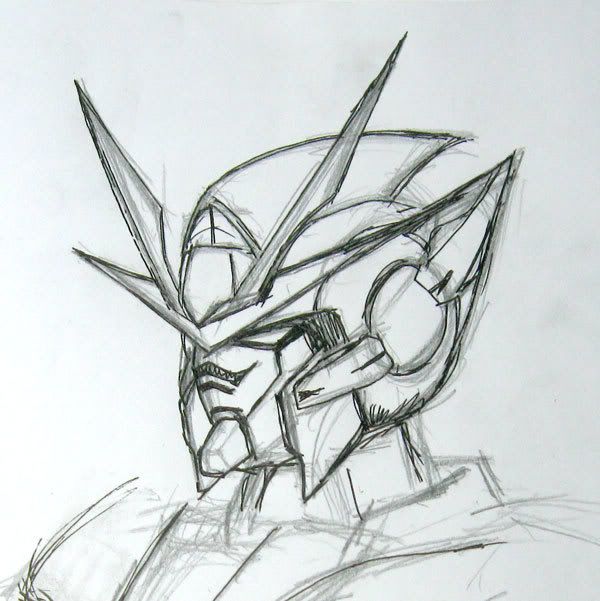 And this was the Vfin mounted on the head.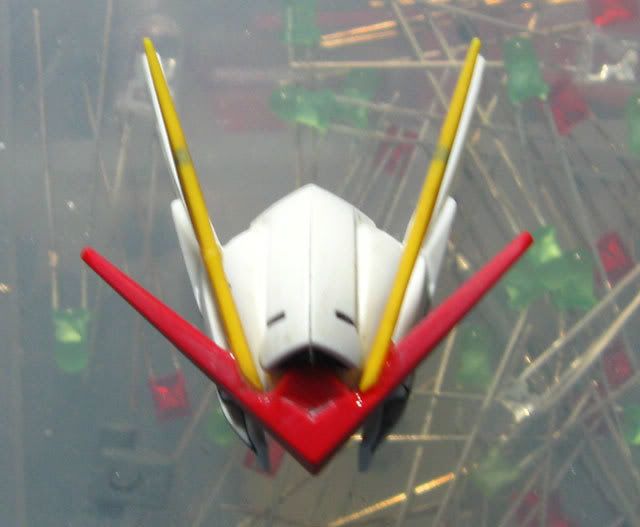 And this is the 00Q Prototype from a screen shot, a couple of years after.
With a few exceptions, I realized my design of the Infinity had an uncanny resemblance to the 00QP, which is not really far fetched since I did base the design from the 00 as well.
On that note, I'm restarting the Infinity Project after the holidays (or probably sooner). The project will have 3 Gundams; the Alpha, the Omega and the Infinity, complete with back story. As I have conceptualized it more than 2 years ago when I got the 1/100 00, it will be set 20 or so years into the future of the current 00 era, after both the 00 and Exia R2 got hammered. Celestial Being will reconstruct the Exia and ditch most of the 00. The new Exia will later be renamed Infinity, and will be the MOST powerful Gundam in all of Gundamverse, making the God Gundam's Shining Finger feel like a pin prick, and the Unicorn's and Sinanju's psycho frames sane (just to annoy UC fans; all in good fun guys).
So as not to get scooped since I told a couple of people about the concept, back then, and just a few hours ago, Celestial Being went underground after the Infinity's trial run where a new Unified Earth Government, unaware of the existence Infinity, killed almost everyone in Celestial Being and destroyed their resources. Only Ian, Halleluja, Setsuna and Noriega was left, with Setsuna rescuing Noriega from a vengeful Billy (he became nuts somewhat) and escaping with the Infinity.
They lost contact with Ian and Halleluja (who was experiencing a resurgence of a deadlier, crazier Allelujah) for 5 years until Ian discovered the two Astraeas (I'll get into the nitty-gritty of the lore later on), reunited them. By that time, Noriega is 8 months pregnant with Setsuna's triplets. Soon after they were reunited, Hallelujah snapped, killed Setsuna and himself in a blind rage over some old issue when he pushed the former to their deaths.
Meanwhile in those 5 years, the UEG gained full control of global power, both in resources and have developed powerful new mobile suits based on the Masurao, GN-X and Reborns. With the Earth in control, the Space Colonies have little or no resources to resist, and no Celestial Beings to intervene.
Fast forward 15 years. The UEG, for the first time in two decades, will face the New Celestial Being Gundams.