Plaplates. Those venerable sheets of plastic that we all use, have used or will use, here, now and again. Its versatility is bound only by the imagination of creator who wields the knife brave enough to cut it, and maybe a piece of flesh every now and then. People have cut it into pieces and recreated scale architectures, or have peppered armor with it till its almost bullet proof, repaired parts and and even built armor, made sandwiches good enough to eat (if one is hungry enough) with it, and whathaveyous from days on end.
My favorite part of a build is modifying or even repair work, so much I am starting to believe I break things just to get a chance to fix them, and with all these, the mighty yet humble plaplate reign supreme.
But today, I tackled something a bit different. Instead of deliberately finding things to fix, I made something instead. Like I mentioned a few posts before, I have redesigned the Sinanju's emblem to make it some of my own and have somewhat become overly ambitious. The Angelus emblem is more than a challenge to make, not because it's difficult to cut plaplates, but, difficult to cut in SMALL curved details.
I printed the design of the Angelus Emblem to scale, on paper, and as soon as I've seen the printed version, I knew I was in trouble. This one in particular is the chest emblem of the Angelus, so it's smaller and more tedious to work on.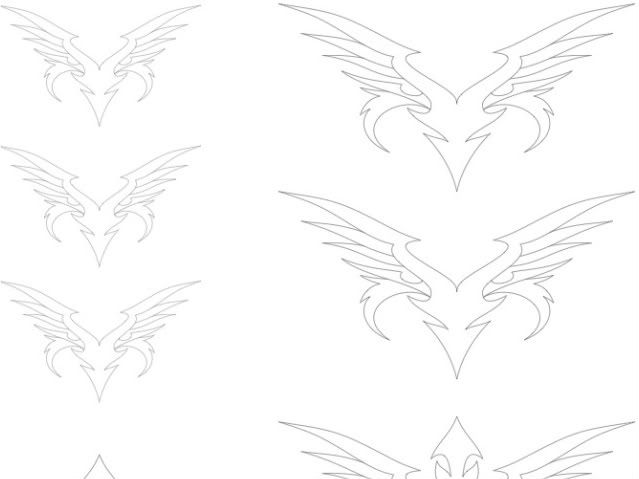 Plaplates become soft as it thins, so, I won't be able to cut this the usual way. Also, since I printed this on plain paper, then later adhered to the blank plates with double tape, cutting it even with a VERY sharp knife moves the paper guide ever so slightly that I can't get a precise cut. So I simply used the guide as A guide to score the plaplate underneath as I glide the knife over the lineart. I then drilled holes to weaken those parts I will have to cut later on (this is the same technique we employ for mangling, er, cutting stock Gunpla.
Smaller holes are more ideal since it can cut away closer and more accurately along the edge of the guide. After removing the excess bit by little bit with a side cutter, a very sharp knife makes short work of the rest of the trimmings.
And voila. This is a trial run. Since the paper moved, I have a bit of symmetry inconsistencies, but, it was good practice. The result is very fragile, the lower wings of the "sculpture" broke easily because of the handling during trimming, so that would have to be remedied as well.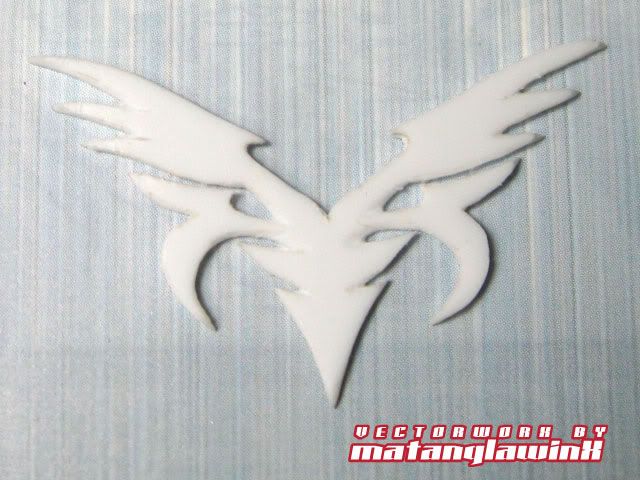 Slightly bent and formed to the contours of the Angelus' chest (I think I need to bend it first before sculpting). I'll be printing the guide on clear sticker and see if that works better. This one will be a "museum piece."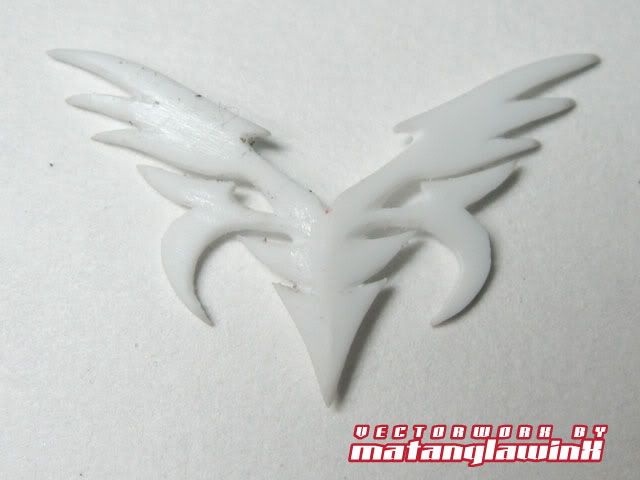 Check out the
Turn X Conversion
and the
Dragon Ronin
for sculpting thick plaplate/HIPS sandwiches for modification parts.