The Rise of the Angelus
. A Major Update. By now, a few people already have an idea what kit the Angelus is built on. The Sinanju, by far, is my most favorite MS design (next is the GN-X, then the Exia), both in form and "functionality." It has the perfect blend of lines and curves, and has a great overall balance. My first Sinanju, the
Grim Impaler

,
attests to that; it looks great out of the box, and better with the right color scheme even without modifications.
The Angelus technically is a year in the making, after I've shelved the Impaler X/Devil Wings idea. I've now resurrected it and gave it a new call sign, as well as a new overall concept. Like I mentioned before, this is a thematic, non-Gundam universe build, so I guess I'll have a few more raised eyebrows and condemnation from a few UC hardcores I know.
Lighting Up the Angelus' Mono-Eye
. LEDs have always been a dilemma for me mainly because it has been difficult to procure small enough SMT/SMC (Surface Mount) LEDs. The smallest I could get so far were the standard 3mm bulbs, then I was able to find a few 1X2mm surface mounts at a cellphone shop at
Baclaran
, which later on proved a bit difficult to use because of its size (as in, they are almost flat, and their contacts are a tad too small for my taste). Then a fellow modeler tipped me off to a shop near De La Salle Taft called
e-Gizmo
. The shop sells a lot of nifty electronics stuff, surplus machine and board parts, robotics, and of course, LEDs. Though their LED selection is still basically limited, they have more compared to other shops like Alexan and Deeco.
I got me a few 1X2mm Surface Mount LEDs, but it was these that got my interest.
They're 2X2 SMTs (simply called 1210s), but unlike the 1X2s, these nifty little buggers have wider contact points that wrap around the side and the back, providing a larger contact area for soldering. They come in Green, Amber (yellow) and Bright Red. Though I was already quite determined NOT to solder anything, this one was rather easy to solder wires on to. Also, the LED face itself has a nice "cryptic symbol" that reminds me of the Transformers and is visible when lit.
I've modified the Sinanju's Mono-Eye attachment to fit the LED module by carving out enough material to fit the module.
Test fit.
Engraving the "Angelic/Gothic" designs
. Like what I posted earlier, I went all out and "scarred" the plastic directly to engrave the gothic patterns I've designed for the Angelus. This is quite difficult to do, and one needs to have much dexterity and patience to pull it off. It would have been indeed easier to cut out the pattern from plaplates, then cemented it onto the plastic, but that can only work on FLAT surfaces. Since most of the Sinanju's armor isn't flat, that option never went into consideration. Besides, I tend to make things hard for me so I can troubleshoot and find out ways to make it easier later on.
Also, the inconsistencies i engraving make the overall design "organic," even when the design is supposed to be symmetrical.
The Sinanu's "cap," with the design scored on.
Redesigning the Wings
. I've designed the Wings a year ago using a combination of plaplate sandwiches and surplus Tamiya 4Wd parts (I have quite a few from my 4WD collection). The idea and the design looked okay back then, but I abandoned it after realizing several flaws in the overall design, mainly with majority of the joints being secured with screws, and the wingfold mechanism opening "automatically" via springs.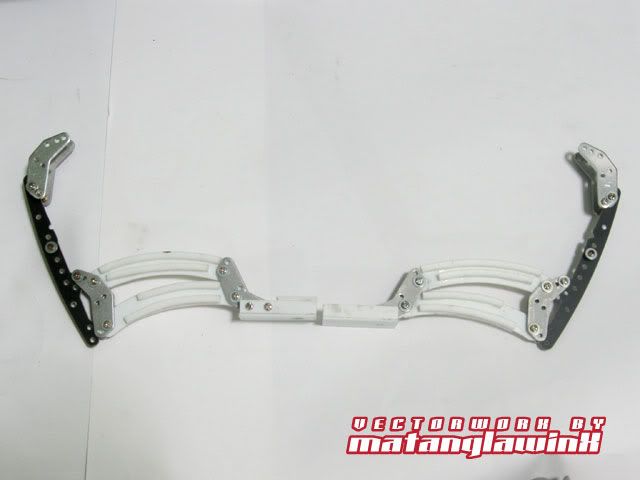 I ended up with a rather flimsy but bulky design that wouldn't even hold its own weight up.
Even though the original design mechanism worked, i would have to hide it with additional armor which will only aggravate the bulking and weight problem.
A year after, I was "enlightened" enough to know what not to do and what to avoid, and came up with a simpler design comprised mainly of plaplate sandwiches. I've used two of four the swivel/peg mechanism from the K'Triya as backpack wing mounts.
Assembled, it should look something like this.
I've modified the Sinanju's backpack for this mechanism. In order for me to fit the new wings, I had to cut out the tip of the wing frame and reshape it a bit to be able to insert the connection module I've built using 2mm beams and small pieces of plaplates. I've also modified the other tip as the main connector to the differential wing mechanism by mounting a plaplate sandwich onto the tip.
ABS/PS/PC/PE/Cement dilemma
. Experience-wise, ABS plastics aren't too receptive to cement unlike PS plastics (which "melts" in contact/saturation with cement). Though it might be ideal in these cases, I still would not use superglue to bond ABS/PE/PC plastic onto PS because it can get brittle over time. My best option was to score the ABS surface with a knife and mount the PS module with cement and wait for the cement to fully cure. I then drilled holes where need be and inserted cement saturated plugs to reinforce the join.
These Gears are Made for Swiveling
. I maintained the use of gears mainly for the wingfold mechanism not only for its ability to hold the wing's weight up but also for its differential properties. With the double-gear system, The wings can fold smoothly and provides a three point differential for me to exploit. With the wings mounted, the differential can also act as the levers to enable the wings to "spread" by simply manipulating the tip.
That's it for now...