I know I said previously that I'll be working on the weapons, but I may have to bring that out in the next update. I'd like to thank Kamm for giving me those Warhammer references for the shin guards. As it is, it's scratch-building time once again.
I had to change the shin guard mounts to accommodate the simpler shin guard reference Kamm gave.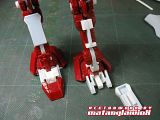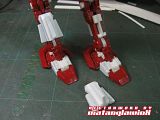 Using larger pieces of HIPS trimmings, I roughly cut a shape (half of the actual shin guard) using one of the Warhammer pics as reference. Then used that as the template to create a whole one by reflecting the shape on its edge.