A step beyond scribing
. While the JinX percolates, and the Qan[T] in limbo, I've started on a new project that involves more of my trademark functional modifications, and this time, engraving on plastic. I've chosen an angelic/demonic/gothic theme for this build (hence the title), and has so far tested my patience and dexterity more than any of my previous builds.
This build has been more than a year in the making. After that initial concept I did a year ago, I basically scrapped the idea and went on doing other stuff. Until now.
Anyways, here's a sneak peak. I penciled out the design DIRECTLY on the plastic, lightly sanded so the graphite has something to bite into. I then used a knife to score the plastic, then deepened the grooves with a needlepoint bit mounted on my pin vise. I used my rotary tool and the needlepoint engraver bit to remove material to achieve what is illustrated below.
I then went back to my other needlepoint and engraved the streaks, then sanded the surface to make the engraving stand out.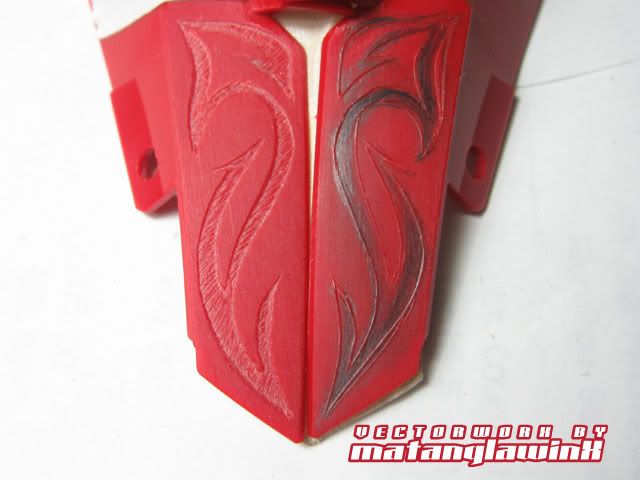 Tools of the Trade
. To execute this "painful" process, you'll need:
A] Sharp knife blade; for smooth gliding scoring on bare plastic.
B] Blunt knife blade; for deepening the scores on the plastic (I have had this blade for over a year).
C] Engraving needle bit mounted on a Rotary tool. This helps speed up the engraving process.
D] Engraving bit mounted on a pin vise, for engraving the "african tribe scar tattoo" texture.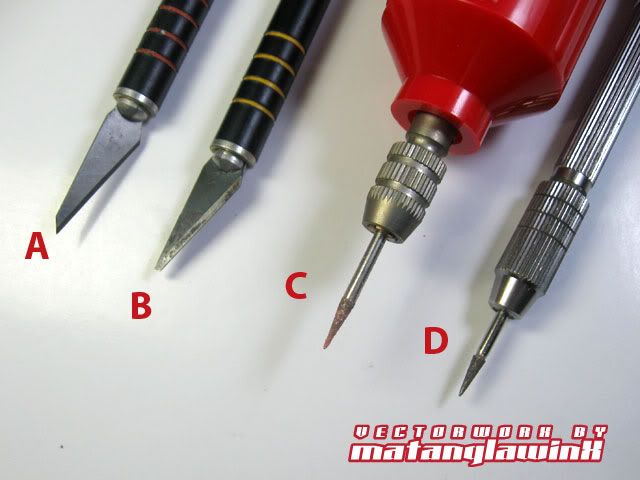 The Revelation this weekend.